Yes, the Switchfoot studio webcam is abuzz with information! The guys gave us all a glimpse of the song lists for this upcoming album. And boy, are there some crazy names! One of our writers, amylynnequist, posted screen caps of this moment, for those who missed it, on the Switchfoot Webcam 08 blog!

Here's the caps: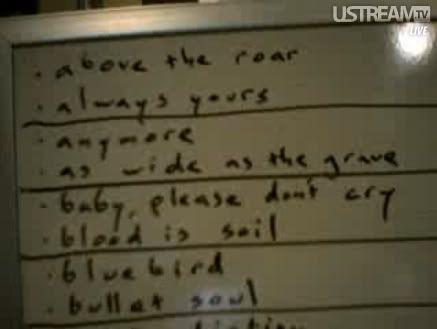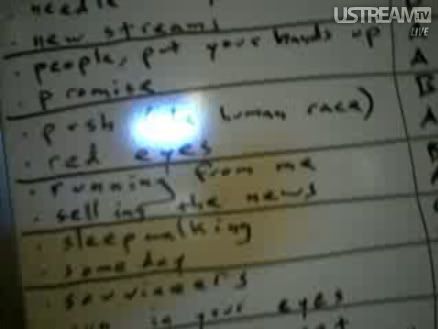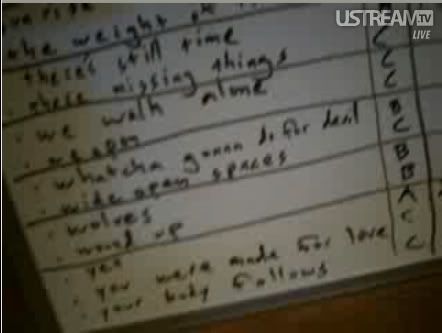 And check out all the ridiculously awesome song titles!

Above the Roar
Always Yours
Anymore
As Wide As the Grave
Baby, Please Don't Cry
Blood is Soul
Bluebird
Bullet Soul
Contradiction
Dirty Streets of Gold
Dontcha Know
Fading
Fluorescent
Halfway
Hello Hurricane
Holding On (CROSSED OUT)
I Can't Let It Go This Time
I Dug Myself
I Saw Satan Fall
Light and Heavy
Meantime
Moving Lips
Mr. Hyde
Needle + Haystack
New Streams
People, Put Your Hands Up
Promise
Push (The Human Race)
Red Eyes
Running From Me
Selling the News
Sleepwalking
Someday
Souvenirs
Sun In Your Eyes
Sunrise to Sunset
The Weight of the World
There's Still Time
These Missing Things
We Walk Alone
Weapon
Whatcha Gonna Do For Deal?
Wide Open Spaces
Wolves
Wound Up
Yet
You Were Made For Love
Your Body Follows


Some of them are familiar friends from previous recording sessions past, like "We Walk Alone," "Wolves," "Red Eyes" etc. from the Oh! Gravity. sessions. Others have been highly buzzed-about and anticipated, like "Running From Me," "Blood Is Soil," and "People Put Your Hands Up."

I'm really liking the title, "Hello Hurricane." Of course, we'll have to reserve judgment for when we actually hear songs.

-------------------------------------

Speaking of the webcam, we have a new writer in the fold for the Webcam blog! Say hi to Jess :)!

Here's her first entry!